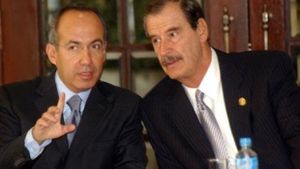 La Diplomacia Cultural de Mexico durante los gobiernos de Fox y Calderón
http://www.redalyc.org/articulo.oa?id=11002005
Resumen
El ensayo aborda brevemente las diversas iniciativas realizadas por los gobiernos mexicanos para dotarse de una diplomacia cultural. En este sentido, subraya que si bien existe en México una tradición de política exterior en donde la cultura ha ocupado un lugar importante no es sino durante el gobierno de Vicente Fox cuando de manera explícita se anuncia una estrategia gubernamental tendiente a elaborar una verdadera diplomacia cultural. Para tal efecto, el trabajo consta de dos partes. En la primera se exponen un breve panorama histórico. En la segunda se analizan algunas de las acciones relevantes realizadas en el ámbito de la diplomacia cultural durante el gobierno de Vicente Fox y el actual gobierno de Felipe Calderón. Palabras clave: Diplomacia cultural, Secretaría de Relaciones Exteriores, México, Política Cultural, PND.
Abstract
This essay analyzes briefly the initiatives developed by Mexican governments in order to provide with a cultural diplomacy. In this sense, it outlines that although in Mexico there is a foreign policy tradition in which culture takes an important place, it is upon the arrival of President Vicente Fox that it is announced and implemented explicitly a governmental strategy for a real cultural diplomacy. For that purpose, this work is divided into two sections. The first one exposes a brief historical view. The second one analyzes some of the relevant actions of Mexican cultural diplomacy realized during Vicente Fox government and the current government of Felipe Calderón.
Artículo publicado en la Revista Reflexión Política, vol. 10, no. 20, dic. 2008, pp. 44-56.
Universidad Autónoma de Bucaramanga IEP-UNAB, COLOMBIA